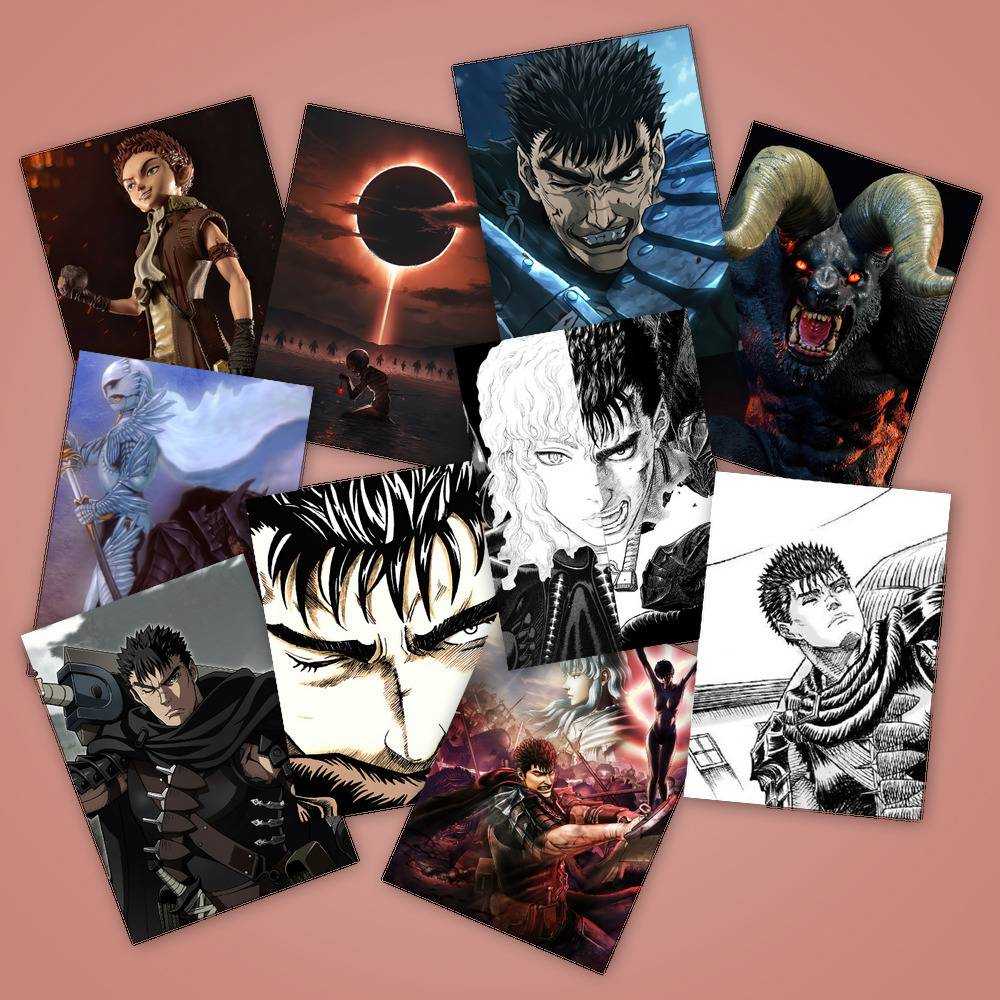 10PCS Berserk Postcard Cover Photo Life Photo Post Card Set
description

The postcard set contains 10 postcards, 1 of each design, postcard set comes in a variety of forms, including cover photos, photos of everyday life, and more.

The postcard size is 5 x 7 inches (12.7x17.8cm). The postcard set is made of white cardboard for durability and protection. Our postcards are printed on 300 gsm) premium sturdy quality cardstock. It can be mailed without an envelope. Ideal for sending a note to a friend and family.

Material: 300g white cardboard

Weight: 56g

Your order will be handled as soon as we receive the customization details, and it will be shipped out within 2-4 days!
shipping

Free shipping for orders over $49

You can choose the shipping method during checkout:

Standard shipping: $7.99

Arrives 7-15 business days after the production time

Express Shipping: $29.95

Delivery 4-6 business days after the production time
Berserk Merch - Official Berserk Merch Store
Welcome to Berserk Merch Store. We've made it easy here to order products that show your love for Berserk. Berserk Merch is now the go-to shop for all the fans over the world who love Berserk and has become the best shop for all Berserk fans out there. We provide our beloved customers only the best quality Berserk merchandise, accessories, clothing, and more, all at a very affordable and reasonable price!
Introduction of Berserk
Berserk is a dark fantasy manga series drawn and written by Kentaro Miura. Set in the European Middle Ages - inspired by an extremely dark fantasy world, the story centers on the characters Guts - a lone mercenary, and Griffith - a leader of the gang mercenary known as the Army of the Hawks. Themes of solitude, friendship, and the question of whether humanity is fundamentally good or bad permeate the plot, as it explores all the best and worst of human nature.
Plot of Berserk
Guts were born from an evil demonic force that ripped him from his mother's womb, while Griffith was born from an egg as the reincarnation of an ancient king. Guts seek sanctuary from the demonic forces that pursue him and his woman, Farnese. To protect her, he travels to a remote region of the Holy Roman Empire. He is accompanied by an elite group of warriors called the Band of the Falcon.
The Band of the Falcon is a group of mercenaries led by Griffith, who was once a mere commoner like Guts but has become one of his country's most powerful figures.
Griffith's ambition leads him to assemble a force consisting not only of troops and cavalry but also dark wizards and witches. Farnese is deeply disturbed by this turn events have taken, so she decides to leave Guts for what she considers to be her safety.
Berserk Merch: What Items Are We Offering?
We've got all the official Berserk merchandise you could think of! Whether you're looking for A Berserk T-shirt, an awesome Berserk phone case, or maybe even a flashy Guts poster, we've got it all for you! Our Berserk-wide collections also include hoodies, hats, mugs, pillows, and more!
With thousands of unique and diverse items. You can discover more about our products on the Homepage (mangashirt. store) right away to become a true fan of Berserk.
Berserk T-shirts
Have you been looking for stylish shirts to wear on a day-to-day basis? Be glad, for you've found our collection of the best Berserk T-shirts in the world! Our Berserk T-shirts are designed after the number of amazing characters of the series and made of only cotton, which is of the highest quality, durable and breathable. We put our heart and soul into bringing you the best Berserk shirts and can't wait for you to try them on.
Berserk Posters
Looking for the best Berserk posters around? We got you covered! Introducing the best Berserk posters the world has ever seen! We've got posters inspired by the many great characters and teams of the awesome Berserk manga series. Berserk Posters are a one-stop-shop for all your decorating needs. Check them out now!